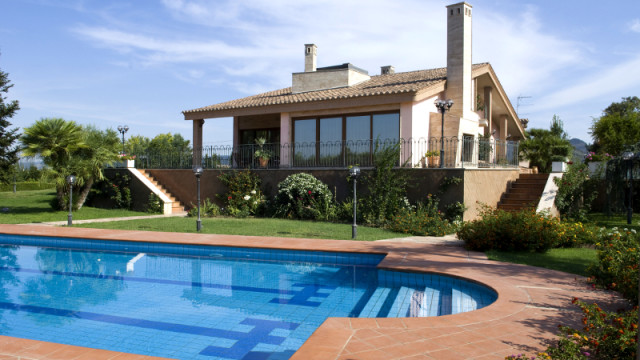 Parcheggio:
box auto 500 m² circa
This splendid italian villa called "Villa Onore" is located in the harmonious countryside of the Lazio Region which is one of the most beautiful, rolling hills area in Italy. The area is exclusively known as Macchia Mediterranea since the flora and fauna are particular to this region.
A 360 degree sweep from the villa provides a view like no other across the Cerveteri countryside and as far as the northern region of Rome.
At a distance of one kilometer you will find all services necessary for easy living. Food stores, shops, restaurants, coffee shops, speciality shops, etc.
We are talking about a villa that is centered on it's own private park and exceptionally, in front of the house, you can enjoy your private swimming pool. A quiet, country villa with all the amenities.
A solarium, a large portico tastefully furnished with outdoor furniture.
The house is charmingly furnished and the sliding doors open up to the grand park surrounding the home itself. Truly prestigious and exclusive.
The villa is comprised of four master bedrooms, three full baths and a very large kitchen that gives off to the dining room. The entrance is very wide and takes you directly into the living room which is no doubt the most beautiful section of the villa with views of the swimming pool and surrounding park. Comfortable couches and chaise lounges refine the quiet enviornment with sliding glass doors completing the internationally known italian atmosphere of relaxed excellent living.
On the floor below, you will find a hobby room, play room, two baths, two bedrooms, dining room and kitchen spread over a a 130 sq mt.area; completely independent of the main house.
Villa Onore is in excellent condition; surrounded by a highly efficient alarm system. Up-to-date central heating and airconditioning complete this efficient property. You will also find a 
110sq.mt
 garage with a huge motorized door, which can accomodate more than two vehicles.
Two watering pools inside the park are excellent for the upkeep of the property.
Just a few meters distant from the main house, a"guest house" can easily accomodate your friends and family since it is complete of kitchen, two bedrooms and bath.
A 400 sq mt.storage room is found on the property for your use.
This is truly a gorgeous Italian Villa located on it's own splendid private park.
Villa Onore is a top investment and exceptional property. Please contact me for further information.